Jordan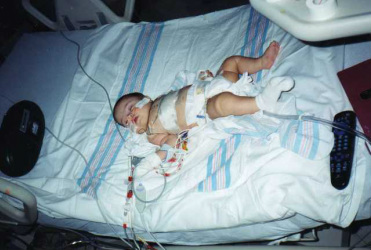 Jordan after open heart surgery.
While Jordan may not change the world, although the possibility is there for him to have that impact, he is proof that one person can change the lives of a family.

Jordan was a much anticipated child. We had Jordan's name picked long before we were married.

When we had been married for two years, we decided we should add to our family. As is typical for us, things don't go as planned. It took a surgery and a number of visits to doctors, but three and one half years later Jordan made his entrance into the world.

We tried to do everything right before and during the pregnancy. Jenny had gestational diabetes, and she followed the diet strictly. We had plenty of ultrasounds, and noticed nothing unusual on any of them. At a 36 week ultrasound, Jordan had an excessive amount of fluid in his stomach, but no one thought it was a big deal since it was gone in the ultrasound the next week.

At 37 weeks, Jordan had dropped far enough that our OB decided to induce labor that week. As first time parents, we were counting on those other three weeks to get everything in order, but instead we had three days. When we arrived at the hospital the morning Jordan was born, they didn't have us on the schedule, but we got that straight. After a short labor, and one push, Jordan entered the world and we found out we had a baby boy.

When Jordan was born, he had a little trouble keeping warm, so they kept him in the nursery for a while until his temperature could be regulated. We found out later, there was a discussion in the nursery about the possibility of Jordan having Down syndrome, but no tests were performed and no mention of this was made to us. We were released in a normal time, with a bili blanket to help with his jaundice. Due to the jaundice we had several visits to the doctor to draw blood over the next several days.

When Jordan was eight days old, Jenny's father lost his battle to mesothelioma. While it was a sad occasion, we were grateful Jerry was able to meet his grandson.

Tim's best friend's family came to watch Jordan while we were at the funeral. Their son, six at the time, said Jordan looked like a Chinaman. At the time we thought it was due to his yellow tint from jaundice, but it turned out he was the first person we knew that noticed the slant of Jordan's eyes.

While we were at the funeral Jordan started spitting up. When we got home from the funeral, we took Jordan to the pediatrician to see if he was sick. The pediatrician ordered a x-ray to check for a blockage. We spent that night trying to get Jordan to drink a solution of barium. The next day we had an x-ray, and took it to the pediatrician. The peditrician wanted us to go to the Children's Medical Center at the Medical College of Georgia the next day for a surgical consultation, he thought Jordan probably had pyloric stenosis.

So, at 13 days old we headed for a consultation on a simple surgery, not knowing in a matter of hours our lives would be forever changed. When we got to the surgeon's office they sent us for an x-ray. While Jordan was strapped to the x-ray table and they were explaining what they were doing, Jordan started throwing up large amounts of barium. We were rushed from the room, and found out later that Jordan had coded on the x-ray table.

The next few hours were a blur, Jordan was rushed to the NICU and placed in a corner room where a number of doctors and nurses worked on him. When we next saw him, Jordan was attached to a number of tubes and wires. The doctors told us he probably had an intestinal blockage, would have heart failure in about two weeks, and asked if anyone had mentioned anything about facial abnormalities. When we said "No," we were told Jordan probably had Down syndrome. To say we were shocked would be an understatement. How could this be happening when we had gone through so much and had done everything right before and during the pregnancy?

We were a little reassured when the geneticist talked a bit to us, and told us from outward signs he thought there was a 90% chance Jordan did not have Down syndrome. We also were comforted by a nurse telling us that heart failure did not mean Jordan was going to die, but that his heart would not function properly.

The next day, Jordan had surgery to correct his abdominal blockage. The surgery prevented him from being able to eat from a bottle.

Two days after we checked into MCG the results of Jordan's karyotype came back and confirmed that Jordan did indeed have Trisomy 21. Again, we were a bit shocked. We were given a book to read about Down syndrome, and from reading it had lots of concerns about all the bad things Jordan was facing. Luckily we have come to find out that book was not correct in everything we have lived through.

Jordan was released from the hospital a few weeks later, and we took him home, with a heart/breathing monitor, and a NG tube for us to feed him. One of us was awake with him 24 hours a day. We learned more about medical care than we ever thought we would in caring for Jordan.

We think being in the hospital has helped Jordan to sleep well. Since there was so much commotion around him from an early age, he is now able to sleep through most noises. Seeing all the other children in the hospital, and the issues they faced, made us feel lucky that Jordan didn't face some of those challenges.

When Jordan was about three months old he had a heart cath, then the next month he had to have another abdominal surgery to correct a blockage again. When he was about five months old, he had open heart surgery to correct his AV canal. All these required hospitalization.

Since Jordan was not able to drink from a bottle, he lost his ability to suck, so we had to feed him from an NG tube until he was almost 11 months old. He never drank from a bottle again, and we tried every sippie cup known to man until we found one that would work. To this day he does not drink much.

Jordan's final major surgery was when he was just over one year old, when he had a hernia repaired. Jordan has had several small procedures, countless appointments with doctors through the years, and even more times meeting with OTs, PTs, and Speech Therapists. While these may have been time consuming, they all helped Jordan develop, and all shared in our joy when Jordan reached a milestone. Helping Jordan to work to reach each milestone has made us appreciate small accomplishments more than we would have otherwise.

When Jordan was almost two, we went to our first Buddy Walk in Columbia. We met a number of new people, and saw firsthand what individuals with Down syndrome can accomplish. From this, we got involved with Family Connection of South Carolina as support parents. Later when Family Connection opened an office in Aiken, we assisted in organizing the first CSRA Buddy Walk. In addition, Tim served for a while on the Family Connection Parent Advisory Committee.

Through the interaction of the Aiken Office of Family Connection, and the CSRA Buddy Walk, we got to know more parents in the area. It was nice to have parents in the area we could talk to about issues we were facing, and to share accomplishments.

When the Family Connection of SC closed their Aiken office, a number of parents wanted to stay connected as a group. We met several times and decided to form our own non-profit organization. Jenny spearheaded the effort to create the Upside of Downs of Aiken, which obtained 501(c)3 status in 2011.

To maintain a Buddy Walk in the CSRA, a partnership with Upside of Downs, Inc. (Augusta) was established. This partnership has maintained the CSRA Buddy Walk, which has served to provide funds for the Upside of Downs.

When Jordan was born Jenny was working in a bank, and working toward a degree in finance. After the care we received at MCG, Jenny decided she wanted to do something in the medical field where she could help people. These feelings stayed even as she continued to work and raise our family. After our family was complete with the addition of Ethan and Wyatt, Jenny enrolled at MCG. After earning her degree in Medical Diagnostic Sonography, Jenny now works in the medical field.

Jordan loves his brothers and tries to help them. When they are playing a sport, you can hear him cheering for them and their team. However, he also likes them to know he is in charge, and at times delights in tormenting them.

He is a typical 13 year-old. He loves playing DS, Wii, and computer games, reading books, eating, watching Scooby Doo, and playing. He does not like doing homework, or being told by his parent what to do. The extra chromosome has nothing to do with his attitude; it is all about being a typical 13 year-old boy.

Jordan does well in school and is liked by his teachers and classmates. We are pleased with his grades, but like most children, there are times he does not want to do his work, and there are times he misbehaves. There are two particular academic moments we are proud of. The first occurred in his second grade mainstreamed history class. Class members were putting on a hat and saying "I am George Washington." When it was Jordan's turn, he put on the hat, pointed to a picture on the wall and said, "I am George Washington, and I am a General." He was the only student in the class to identify George Washington as a General. When he was in the third grade, he met his goal on the math section of the MAP test by improving his score 17 points. We look forward to more of these moments in the future.

For the past three years Jordan has participated in flag football with his "typically developing peers", and two years ago was on a team that won the league championship. Jordan has fun and tries, and with the support of his teammates and coaches he plays and contributes, even scoring the occasional touchdown. Jordan has been involved for several years with Buddy Soccer and Buddy Baseball through the City of Aiken. He has attended Soccer and All Sports Camps at USC Aiken. He enjoys watching sports on television, and is probably even more vocal than Tim when they watch games together. Like many 10 year-old boys he can identify most NFL teams by their helmet, with the Cowboys and Buccaneers being his favorite teams. He also enjoys cheering for the Pacers and the Gamecocks. This year Jordan was fortunate enough to serve as a manager for the Aiken Middle School basketball team.

The teenage boy attitude can be a bit frustrating, as can spending an hour on homework that should be finished in 15 minutes. However, when you comfort your son who doesn't feel good, or you get a big hug and an "I love you," it reminds you what is important. His smile and hug can brighten even the darkest day.

While we still may not be the most patient people in the world, Jordan has significantly increased our patience, and has shown us not to take life so seriously. We are thankful for the support of our family, friends, and everyone involved in Jordan's care and development. There are people who have provided support and assistance that we can never properly repay. However, we hope Jordan, and the people Jordan has led us to be, can help make a difference in our community.

Having Jordan has made us better parents and better people. From the day he was born, through all the uncertainty of what Down syndrome would mean for us, until today, our love for Jordan has never waivered. Likewise, our desire for him to achieve all he is capable of is still our goal as parents.


---